DIVE! DIVE! DIVE!! SNORKEL! SNORKEL! SNORKEL!!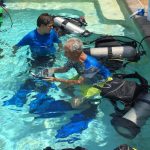 Troop 1000 and the Hornets Patrol have planned an amazing month for Aquatics. Starting August 2nd, all Scouts are invited to Scuba Adventures Plano for an off-site Diving Instructional meeting. $45 per scout, PayPal below. There the Scouts will get a one-of-a-kind experience to test real diving equipment in the water!
The SDI Scuba Discovery Program gives you a glimpse of what you can expect to experience in the underwater world as well as what you could expect to learn in the SDI Open Water Scuba Diver course. During this experience program, you will go through the basic safety procedures for enjoyable scuba diving under the watchful eye of an active SDI Instructor.
---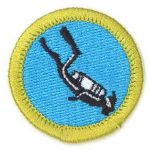 The campout this month will be at beautiful Trevor Rees-Jones in Athens, TX. We will leave Plano Friday night and then drive to the Athens Scuba Park early Saturday morning to get as much snorkel time as possible. $60 total with Park fees, food, gas and camping.

Spring-fed clear warm water lake
Many Sunken Wrecks
11 Diving Docks
Full Service Dive Shop
Equipment Rental
RV Sites with Electricity
Camp Sites
Pavilions
Night Diving & Treasure Hunts
In-house specialty course training
Gear rinse stations
Sugar sand volleyball court
---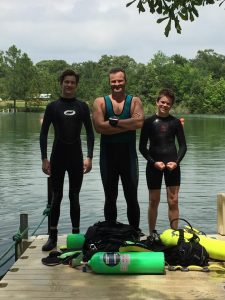 The spring-fed, warm water of Athens Scuba Park boasts an average visibility of 35' that can peak at 70'. The lake's depth is from 20 to 35 feet with the park facilities designed for maximum safety and enjoyment for divers.
ASP is one of the only dive resorts in the United States that has their own full service dive shop, classroom, training pool and a open water lake all in one location. Where else will you find a 60' Hawker 600 Jet, three 30' sail boats, three cabin cruisers, a Lockheed C-140 Jet Star, Clint Eastwood's film crew's triple deck party barge and a DART bus to explore?
Plus cooking, campfire, songs, skits and more back at camp. Be glad you did not say "I cannot go!"
PayPal link is LIVE.
Aug 2, 2021: Scuba Adventures Plano, 2301 N Central Expy # 140, Plano, TX 75075
Aug 20, 2021: TRJ Campout and Athens Scuba Park, 500 N Murchison St, Athens, TX 75751
---