At Hickory Hills Hideaway – April 14-16, 2023
A Troop 1000 First!
Troop 1000 will be holding it's very first TROOPOREE campout at Hickory Hills Hideaway in Larue, TX. This will be our own mini-Camporee Competition/Team-Building/Scout Skills campout for the entire troop. From Trail-To-First-Class to Veteran Scouts, there will be something for everyone. Scouts will be scored individually and by Patrols. Plus every attendee will receive their very own Trooporee event patch. You don't want to miss it!
Find out what makes us One Grand Troop! Be glad you did not say "I cannot go"!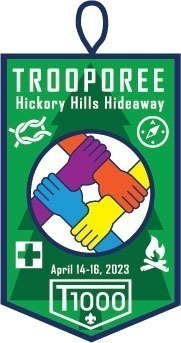 Activities include:
Fire Safety – Fire Building
Axe Yard – Tomahawks
First Aid- Triage Challenge
Knots & Lashings – Camp Gadgets
Gear Care – Buddy Tent Race
Spider Web Challenge
Tug-O-War
Cast Iron Chef
Campfire
…and Many More!
Which Patrol will bring home the Gold?
Troop 1000 meets at Resurrection Lutheran Church at 6pm on the Friday we depart for a campout.
Adults and Scouts should each fill out a permission form for an accurate headcount.
Permission form due date is April 9, 2023. Payment due by Monday April 10, 2023.