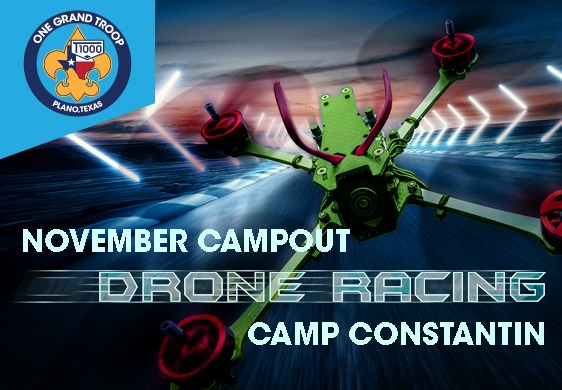 3 – 2 – 1 – GO!

November is Computer Month and we're going DRONE RACING!
This month's adventure begins at fabulous Camp Constantin. There, we will set up camp and maybe a cracker barrel before turning in. The next morning after breakfast, we will have a quick hike up Johnson's Peak overlooking the Possum Kingdom Lake.
We'll return to camp for lunch and start building our drones. There will be practice time blocked out so there will be less chance of mishaps. After that, it's on to the Races! This won't be super challenging courses but enough to keep your drone in the air and out of any trees. There will be prizes for the winning patrols.
After that will be an evening at the Rifle Range for some shooting fun. We are planning on a Marksmanship Challenge and rifle training for the younger Scouts. As always we'll close the evening with campfire songs and skits so bring your best act to show. Be glad you did not say "I cannot go"!
Camp Dates:
November 15, 16 & 17
Arrive at RLC by 6 p.m.
Cost for Scouts:
$12 gas and $12 food,
$6 for ammunition
Contact:
Becky Smith 214-457-0465
smith3sons@verizon.net
Here is the permission slip for the campout. Please bring the signed permission slip and exact cash to Money Monday on November 11.