Open House
Come meet Troop 1000 at our Open House. Join us to experience a real Troop meeting and participate in the architecture merit badge. Get to know our Troop and find out about joining Scouts.
Learn about the upcoming sister troop sponsored at Resurrection Lutheran, turn in paperwork if you decided this is the Troop for your Scout, ask questions, and meet the Scouts and adult advisers.
Date: Monday, January 7, 2019
Time: 7:30pm
Place: Resurrection Lutheran Church, 1919 Independence Pkwy., Plano, 75075 (Park and Independence)
Questions? Contact us at info@t1000.org.
Imagine the Possibilities!
Plano Troop 1000's Girl Troop at Resurrection Lutheran Church (RLC) has sponsorship and support from Troop 1000. The Girl's Troop 1000 will have independent meetings and support from at least two female adult volunteers.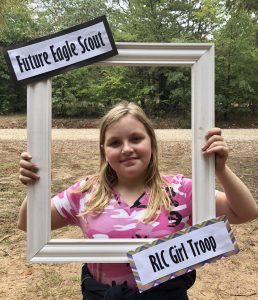 The new RLC Girl Troop had a great time at the Webelos Woods event this past weekend. Lots of fun and camping, and meeting other girl troops and future friends. Keep checking for updates as we wait for our troop number to be issued and scouting for girls to be in full swing!
And if your Scout is 16 or almost 16, she just might still achieve Eagle rank as BSA has issued temporary transition rules. Ask Andy has a good overview of the Eagle rank extension.
RLC is centrally located in Plano at 1919 Independence Pkwy., Plano, TX 75075.
Frequently Asked Questions
Will the scoutmaster be a woman?
Yes! Claudia Smeltzer will be the first scoutmaster once the troop is chartered.
Will the Troop be independent from Troop 1000 boys?
We will share a Scout committee in the beginning, but will have separate meetings and activities.
Will there be camping?
Absolutely! We'll aim to camp at least 6-8 times the first year. If there is more or less interest, we'll adjust as necessary.
How many girls will there be?
The goal is to start with 7-10 girls, but the more the merrier. We have plenty of Troop 1000 parents willing to help get us up and running.
Who can join?
Girls in the 5th grade up through girls who are not yet 18 on February 1, 2019 are eligible to join and earn their Eagle Scout award.
When and where are meetings?
Meetings will be held Monday nights at 7:30pm at Resurrection Lutheran Church (1919 Independence Pkwy). They will last 1 hour.
Will this new girl's Troop share camping equipment with the boy's Troop or will new trailer/tents/cooking gear need to be purchased?
We will likely not purchase any significant gear at first. Troop 1000 has plenty, even if we all go camping on the same weekend. The sponsoring organization owns three trailers and dozens of tents.  Cooking equipment is plentiful, but certainly needs replacement from time to time.
What is the cost to join? Re-new?
The one-time joining fee will be the same as the current Troop at $100. After that, there will be two yearly payments of $85 for renewing.
The first payment of $100 is due at registration (in January/February 2019), then renewing for $85 in October 2019 and then April and October going forward.
The yearly payments can be adjusted by the committee as necessary to keep up with expenses, but we don't expect much increase soon.
To learn more, please contact info@t1000.org or Claudia Smeltzer.