Imagine the Possibilities!
Plano Troop 1000's Girl Troop at Resurrection Lutheran Church (RLC) has sponsorship and support from Troop 1000. The Girl's Troop 1000 will have independent meetings and support from at least two female adult volunteers.
We have an Open House coming up. You're welcome to attend!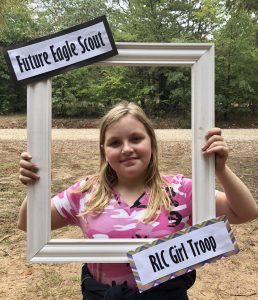 The new RLC Girl Troop had a great time at the Webelos Woods event this past weekend. Lots of fun and camping, and meeting other girl troops and future friends. Keep checking for updates as we wait for our troop number to be issued and scouting for girls to be in full swing!
And if your Scout is 16 or almost 16, she just might still achieve Eagle rank as BSA has issued temporary transition rules. Ask Andy has a good overview of the Eagle rank extension.
RLC is centrally located in Plano at 1919 Independence Pkwy., Plano, TX 75075.
To learn more, please contact info@t1000.org or Claudia Smeltzer.