Troop 1000 generally makes three major long-term camping trips a year. Spring Break, Summer Camp and Winter Camp. Watch this space for more details.
---
Winter Camp 2021 | Spring Break 2022 LEX GWL | Summer Camp 2022 | Winter Camp 2022
---
Spring Break 2022
Younger Scouts – USS Lexington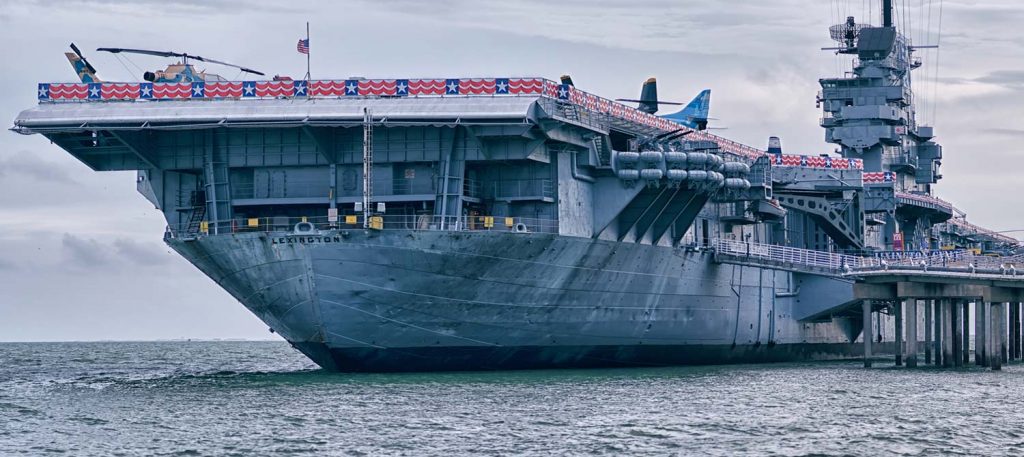 AN EAST TEXAS COASTAL TOUR!
This is going to be a really cool trip. A historical (and possibly haunted) adventure awaits Troop 1000 when we stay overnight aboard USS Lexington, a mighty, record-setting World War II aircraft carrier-turned museum located on Corpus Christi Bay. We'll hear stories from the ship's illustrious past—covering topics like kamikaze and torpedo attacks, the manpower it takes to navigate an aircraft carrier, and being named the "Blue Ghost" by Tokyo Rose.
The chapters of this living history lesson unfold over 11 different levels within the ship, giving curious minds a hands-on experience that reflects on the sacrifices made by a heroic generation, builds camaraderie, inspires love of learning, and is just plain fun!

Our troop is doing the Camp LEX two-night overnight program that includes a bonus gift- one free flight simulator ride for each attendee!
Departing Saturday morning March 5 from RLC. Returning Monday afternoon March 7 to RLC.
Total costs will be $185 per person.
– $150 for the 2-night stay on the Lexington including meals.
– $35 for gas and road food
Souvenir or extra spending money is up to the attendees.
$100 deposit due on Wednesday January 26th to reserve your commitment.
Contact:
Amy Porter 972-400-1601
amyleeporter@yahoo.com
Spring Break 2022
Older Scouts – Backpacking the Goodwater Loop Trail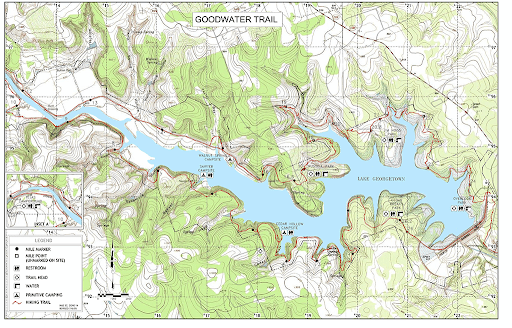 We will be traveling to Georgetown, TX and hiking the Goodwater Loop Trail on Lake Georgetown. Good Water Loop is a 26.9 mile heavily trafficked loop trail and is rated as moderate. We will complete the entire lake trail in 4 days. This is an excelent opportunity for older Scouts looking for some real Scouting adventure. Put your Scout Skills to the test and live out of your backpack for the week.
Backpacking Scouts will need to prepare with a trail rated pack and appropriate gear based on The 10 Essentials. Backpackers will start hikiing Sunday morning and average 6-7 miles per day returning to Base Camp Wednesday afternoon. Backpackers will pack their own trail food, prepare meals with portable stoves, and filter their own water right out of the lake.
Plus Lakeside exploring, Campfire, skits and songs to close out the fun.
Be glad you did not say "I cannot go."
Departing Saturday morning March 5 from RLC. Returning Wednesday afternoon March 9 to RLC.
Total costs will be $60 per person.
– $15 Camping fee
– $30 for food
– $15 for gas
Contact:
Amy Porter 972-400-1601
amyleeporter@yahoo.com
Summer Camp 2022 – Camp Orr, AK
Troop 1000 is returning to Camp Orr in Arkansas this summer. We had such a great time in 2020 that we wanted to revisit this jewel of the Buffalo River again. This will also be a Split-Program. You can earn merit badges and experience traditional summer camp with dining hall meals and fun activities like camp competitions and the Trading Post. Or you can sign up for the High Adventure program and complete a 50-Miler excursion Backpacking and Canoeing through the Ozark National Forest.
WHEN: Sunday June 19 to Saturday June 25, 2022.
Gear Load-up Saturday June 18 at RLC.
COSTS:
High adventure camp fees will be $395 per scout, $220 per adult.
Plus road food ($30) and gas ($30)
=$455 high adventure scouts, $250 high adventure adults
Regular summer camp fees are $325 per scout, $150 per adult.
Plus road food ($30) and gas ($30)
=$385 regular summer camp scouts, $180 summer camp adults.
(please note this does not include merit badge fees)
February 25th – merit badge signups, permission forms, medical forms, and deposit due (Links coming soon)
Final camp payments are due by May 2
DEPOSIT LINKS – $100 TO RESERVE YOUR SPOT.
DEPOSITS DUE FEBRUARY 25, 2022
---
---
---
---
Contact:
Amy Porter 972-400-1601
amyleeporter@yahoo.com
Here are useful documents to help prepare for summer camp: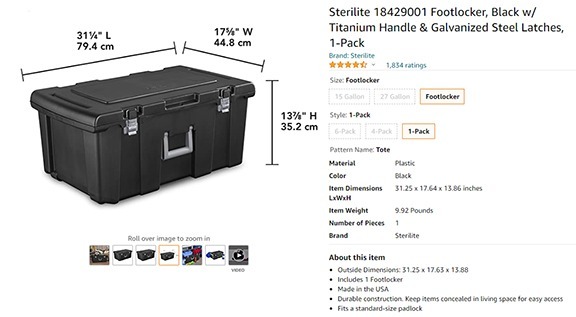 Winter Camp 2022
TBD