All Scouts deserve a trained leader. So we are providing you the
tools to become the best leader you can for your troop.
MyScouting Training
To begin, make an account at my.scouting.org. Boy Scouts of America offers training courses online at my.scouting.org. It also includes a Dashboard that shows what training you've completed. Visit the BSA Adult Training page for more information. Also bookmark the Scouting Events calendar to keep track of all events in Circle 10. ScoutingEvents Any Scouter can participate in any activity hosted by any District.
Youth Protection training is required for all BSA registered volunteers and is a joining requirement.
Youth Protection training must be taken every two years. If a volunteer's Youth Protection training record is not current at the time of recharter, the volunteer will not be re-registered.
To become a Merit Badge Counselor, you must fill out another Adult Application and Background Check (below) at include "42" under Position Code. It is highly recommended to take MBC training.
Introduction to Outdoor Leader Skills – IOLS
Working as patrols, this hands-on course provides adult leaders the practical outdoor skills they need to lead Scouts in the out-of-doors. Upon completion, leaders should feel comfortable teaching Scouts the basic skills required to obtain the First Class rank. Along with Scoutmaster Specifics this course is required of all direct contact leaders registered in Boy Scout Troops in order to be considered "trained". Watch the Circle 10 iHub page for updated info.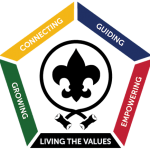 The purpose of Wood Badge is to develop skilled leaders who can strengthen Scouting units in achieving the mission of the Boy Scouts of America.
When we accomplish the mission of Scouting, we do it in the units. Therefore, the short form of the purpose is, the purpose of Wood Badge is to strengthen units.
Although the course is different today, what Baden-Powell said in 1919 still applies:
One of the purposes of Wood Badge training is to get Scouters to think about the practice of Scouting, to meet together, to exchange experiences, and to live together in the spirit of the Scout Oath.
Other Training Opportunities
Adult Leader Awards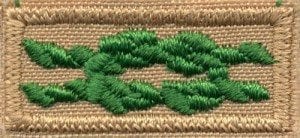 Adult leaders are awarded knots and other recognitions they can wear on their uniforms. Knots are placed over the left breast pocket in rows of three.
The most common knot for ASMs is the Scouter's Training Award. This award can be presented to registered Scouts BSA adult leaders who have two years' tenure in the troop and have completed position-specific training and other performance requirements designed to encourage and recognize those who give of their resources to make the pack successful. Tenure does not need to be in the same position. In addition to a certificate and medal, a green square knot on a khaki background is available to wear on the uniform.
Visit the BSA Adult Training page for more information.