Money Monday

"Money Monday" is the due date when the Scouts must confirm they have paid for the campout either with cash or via the Troop Store link associated with that month. It usually falls two meetings before a campout. Please see the Campout page for more information. All permission forms must be filled out and submitted online or you can request a written permission slip.  All patrols will make final arrangements for the campout including Grubbing duties and Campfire skits and/or songs.
Please check the calendar for upcoming Money Mondays.
Each Scout attending an activity MUST CONFIRM with his Patrol Scribe that all money, permission forms, and any other required items have been submitted prior to 8:00 pm on Money Monday.
If a Scout is absent that evening then someone else may deliver the right items to the Scout's Patrol Scribe. Permission slips and all other required items must accompany payment.
Please understand that there is a great deal of coordination and preparation required for things to work right. Rides must be confirmed, food money distributed, additional consideration made, and so forth. Your cooperation will help assure your Scout will go camping!
Permission Forms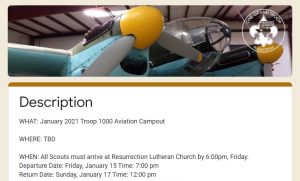 Completing the Troop's Google Permission Form is required for Scouts to attend Troop activities (outside of normal Troop and Patrol meetings). Part of the permission slip contains a release for the Troop to obtain medical help for the Scout if he is injured.
Permission forms also contain contact information for both the troop's and parent's use, and other pertinent information for the parents. Any Scout showing up for an activity that requires a permission form without one will not be allowed to participate in that activity.
Parents will be required to either come and get the Scout, or fill out a form. Contact telephone numbers on the form must be numbers at which parents can be reached during the event. In case of an emergency, the information provided is the only way to reach you.
Permission forms are distributed two weeks before an activity, and should be completed and sent in with camping fees by Money Monday.  The Permission Form contains sections for Food Allergies, Dietary Restrictions, Partial Attendance, and other Special Considerations.