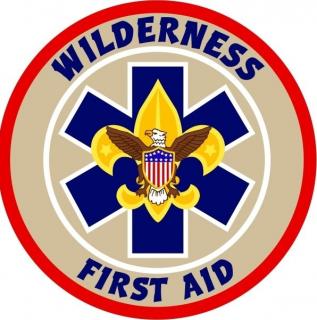 The Wilderness First Aid (WFA) Training is a 16-hour, hands-on course to give adult leaders the experience needed to handle illness and injury when medical care is more than an hour away. When paired with CPR/AED certifications, leaders are well prepared to deal with emergencies and routine medical issues that may occur on an outdoor adventure.
All four of the BSA high-adventure bases (HAB) require at least one person per trek (two per trek at Philmont Scout Ranch) to be current in WFA. Of course, having more participants trained in WFA skills is highly recommended for any high adventure or backcountry experience.
WARFA volunteers are needed to simulate injuries and emergencies for the trainees to administer. Volunteers will participate in Moulage. Moulage is the art of applying realistic, mock injuries for the purpose of training emergency response teams, medical, and military personnel. Good special effects in movies are effective because they make illusions seem real. Making simulated injuries seem real helps first responders better prepare for the real thing.
All volunteer hours qualify as service hours for rank advancement.
WHERE:
Camp James Ray
2026 Mill Creek Rd, Pottsboro, TX 75076
https://goo.gl/maps/iZDw5VGa79hRcfRn9
WHEN:
Saturday April 1 from 1pm-4pm
Sunday April 2 from 9am-3pm
Volunteers will need to provide their own transportation.
If we have a large enough contingent the troop will arrange a carpool.
COSTS: Free. Lunch provided.